QS series two-stage reverse osmosis equipment
Summary:
QS series water preparation system is a general pure water preparation device, which adopts two-stage RO reverse osmosis process to prepare pure water; taking tap water or groundwater as the water source, the conductivity of the effluent can reach < 2us / cm. The equipment is characterized by mature process and stable effluent quality.
Product features:
1. The process is mature and the quality of effluent is stable;
2. Simple installation, convenient operation and one key operation;
3. High degree of automation, small floor area, economic and practical features;
4. Suitable for various water sources and low energy consumption.
Basic functions:
1. Water shortage protection; water full shutdown;
2. Self cleaning function of prefilter, lower equipment operation cost;
3. Online monitoring function of water quality to know the water quality at any time;
4. The system automatically flushes when the machine is started or stopped, extending the service life of the machine;
5. Alarm or shut down and alarm for unqualified water quality.
Equipment selection table: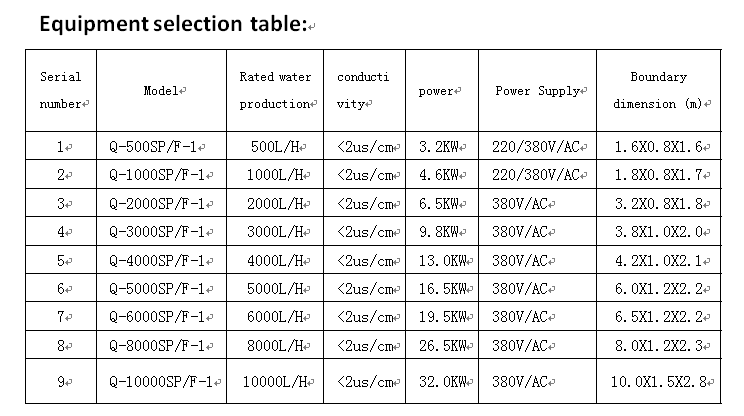 Remarks:
1. Model Description: for example, q-500sp-1, Q: Brand: qclean Qianjing, - 500 is the hourly output of 500L, s is the two-stage reverse osmosis, P / F is the low-pressure pipe material of PVC, f is the all stainless steel material, - 1 is the factory version 1.0 standard;
2. This type selection table is a conventional 10t / h equipment type selection table, larger than this output, customized according to the engineering machine;
3. The equipment can be made of FRP and 304 stainless steel;
4. The overall dimensions in the model selection table are for reference, and the suitable dimensions can be customized according to the specific position of the user, with the data of length x width x height; the dimensions do not include the size of water tank occupation;
5. In the selection table, explosion-proof pure water equipment can be customized according to the requirements of customers;
6. If the voltage of the equipment exceeds the rated requirements, 110V or 200V can be customized according to the user's requirements;
7. The model or technical modification of the equipment shall be subject to consultation with the customer service of the manufacturer before delivery without notice.